Update.
From June 23 to June 30 we are on holidays, all orders placed within this period will be shipped after June 30.
Preserved Moss For Decorations & Green Walls.
Preserved Moss walls and moss decorations are currently one of the most popular trends among top interior designers - interior decorators.

​We are a leading European distributor of the highest quality preserved moss for decoration and green walls/ vertical gardens.
Our range include highest quality- hand selected , real preserved moss ( Pillow/ Bun Moss, Flat Moss, Reindeer Moss - Lichen ) for green walls, moss for creating various types of decorations, ready-made moss wall panels, moss walls and unique hand-made moss works of art with deliver to your door.
We ship our products to most countries of the European Union and United Kingdom

.
Wholesale and retail customers welcome.
Why choice us.
- Only natural products of the highest quality
- Many years of preserved moss know-how.
- We make moss panels - green walls ourselves.
- Always large amounts of moss in stock.
- Safe, SSL encrypted payments.
- We accept most Payment Cards and PayPal (with buyer protection program)
- Fast hassle free door to door delivery.
Brexit Update.
The minimum order value is £ 136 , the goods are sent from Poland (EU).

After Brexit, EU VAT is not added to goods sold to customers from UK (which makes them cheaper by 23% compared to the same products sold to EU customers), after goods are delivered customers from the UK will be asked by shipping company ( FedEx) to settle UK VAT according to local rates of 20%. For companies with VAT UK, VAT settlement on the reverse charge basis.
Preserved Moss
It is a natural - real moss which, right after the harvest was preserved with specially prepared solution, the main ingredient of which is glycerin. This allows it to maintain the softness and beauty so typical of fresh plants - mosses for years. The entire preservation process is environmentally friendly. Only natural organic dyes are used for its coloring. The preservation process stops moss in time, and therefore moss does not needs care or watering it is 100% maintenance free.
Preserved moss can be used in any room from office buildings to apartments, houses, bars, restaurants, beauty salons, swimming pools and SPA.
The genius of this product lies in its incredible strength and practicality. It looks great on large surfaces, creating green walls, impressive works of art – paintings.
We promote the idea of modern ​​interiors with natural plants and healthy air.
We believe that living close to nature gives you real happiness.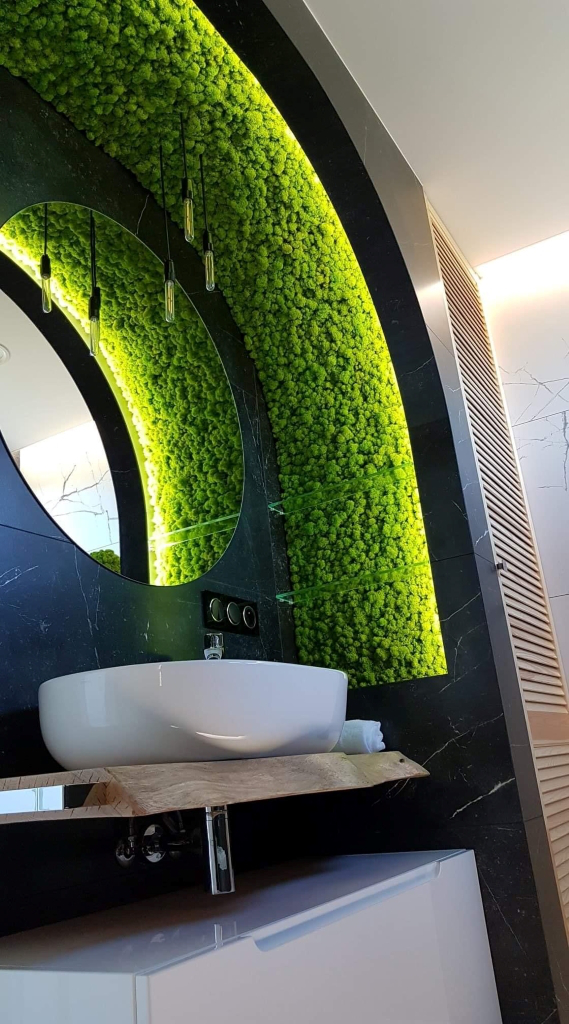 Our moss wall panels are handmade by our team of experienced florists. We approach each order individually, paying attention to details. As a result, we deliver a product of the highest quality.
PRESERVED MOSS ADVANTAGES
100% Real – Natural Product
100% Real Natural Moss is soft and pleasant to the touch.
100 % Maintenance-free
Preserved moss does not require any care. It does not need light, watering or pruning, because it is permanently preserved.
Antistatic
The moss has anti-static properties. Does not collect dust.
It cleans the air!
Throughout the entire cycle of absorption and release of moisture from the environment - air is filtered.
Hypoallergenic
Moss does not cause allergies. It does not contain toxic chemicals and is safe for children and animals.
Humidity indicator.
Preserved moss dries out when the air humidity drops below 40% and becomes soft when the humidity is above.
Air humidity between 40% and 60% is a standard humidity in rooms where there are people.
Sound-absorbing.
Preserved moss has an excellent sound absorber properties.
Absorbs vibrations up to 2x more than other 3D panels of the same size and thickness.
In harmony with nature.
Our Moss comes from Scandinavian plantations and is collected in accordance with applicable regulations.
Only top quality natural ECO dyes are used to obtain colors.
If you want to stand out from the crowd?
Choose an original look - choose a preserved moss!